Black Women Film Network Festival on Kweli.TV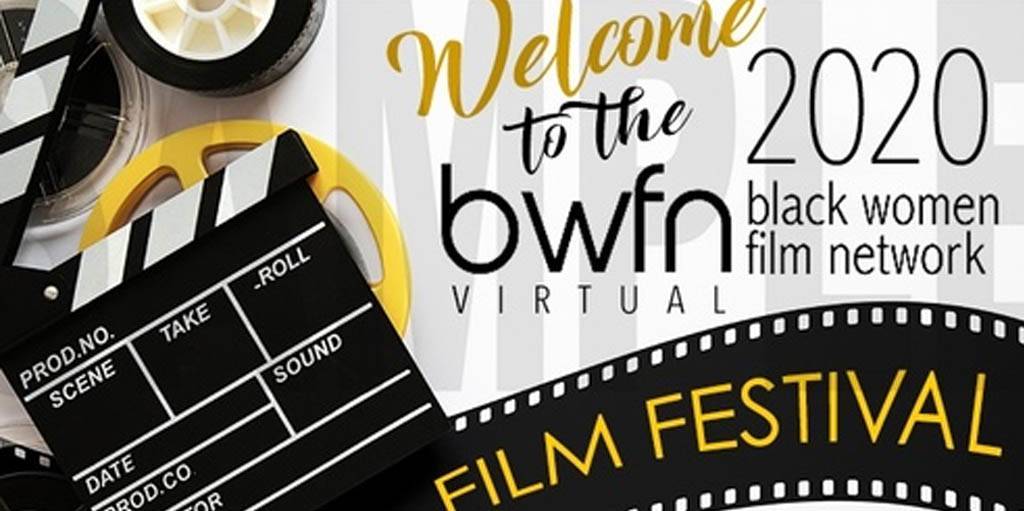 Black Women Film Network To Stream Annual Short Film Festival On Sat, Oct. 10 On Kweli Tv
Black Women Film Network (BWFN), a network established in 1997 to increase the number of women in the film industry announced that it will host its annual BWFN Short Film Festival as a virtual experience on Saturday, October 10, 2020 in partnership with Black-owned streaming service KweliTV, a platform with content is entirely composed of films made by members of the African diaspora.
Join KweliTV
For 24 hours, viewers will be able to watch the 2020 festival selections online at Kweli.tv or through streaming devices and smart TVs.
Purchase Tickets
"The short films we've selected showcase the breadth and depth of Black women's stories around the world and our storytelling capabilities."
Jaunice Sills, Chair of BWFN

"Each short was directed by, produced by, written by or starring a black woman. We are excited to present these stories on the Kweli TV platform – a digital space intentionally created by a Black woman, DeShuna Spencer, who wanted to bring truth to power as it relates to content. At this moment in time in our history – it is critical to recognize Black women's art, influence, and our stories that matter."
Jaunice Sills, Chair of BWFN.
The following shorts have been selected to screen at the 2020 BWFN Short Film Festival:
---
Hit the Road | Director: Maya Table
Dramedy – Based on director Maya Table's true story, Hit The Road puts a lively spin on the devastating breakup of longtime couple Penny and Stan. Fueled by their competitive nature, Penny and Stan, played by Brianna Butler and Jared Wofford, engage in a battle of the sexes vying for the last word.
---
Afro | Director: Jenn Shaw
Coming of Age Dramedy – After multiple encounters with her bully and a little academic inspiration, an African-American teen girl finally stands up for herself against classmates that question her cultural identity.
---
Junebug | Director – Winter Dunn
Drama – At 28, Junie is a writer, obsessed with capturing the essence of her childhood growing up with her musician father, Davis. Davis, an alcoholic drummer with an infectious charm and an unending tenderness for his daughter is proving difficult to put into words. As Junie struggles to articulate Davis in her writing and to her boyfriend Calvin, she's transported back in time through her own memories of him. How do you explain someone impossible to love and impossible not to? JUNEBUG is an exploration of the fierce love between a daughter and father, the complexities of an absence that words can't touch, the power of music, and the wonderland of memory.
---
I'm Press | Starring: Antaneise Henderson
Romantic Comedy – Presly Jones, a beautiful yet insecure environmentalist goes on her first date in a very long time. With the help of her best friends, Presly gets two ear fulls of advice during the date and soon realizes the extra assistance may be more problematic than depending on herself alone.
---
Watching the Storm | Director – Sheena D. Carter
Documentary –  Following the Baltimore Uprising of 2015, African American Horologist Steven Richardson returns to his hometown to help foster the city's youth by cultivating the next generation of watchmakers.
---
Emerger | Producer – Rhonda Harper
Documentary – Khadjou Sambe was the first woman to surf in her hometown of Dakar, Senegal. In doing so, she emerged from a patriarchal system to become an icon for black women surfers everywhere and pave the way for the next generation.
---
The Erasure | Director – Akeallah Blair
Thriller – This thriller film is sort of like 'The Purge', and for one weekend out of the year Black women and girls go missing. This fictional film is inspired by a real statistic, that 64,000 Black and brown women and girls go missing in the United States every year, and only a fraction of their cases are investigated. The rules for the Erasure weekend is that there cannot be any police involvement or media coverage of the missing women. In this world, there is a 'safe haven', a neighborhood known as Fontier Hills. This year the audience goes on a journey with three Black women that live in this safe haven and shows what happens to them when The Confederate goes beyond their boundaries to capture them.
---
Steve –  Executive Producer/Writer/Star – Amber Iman
Comedy – If grinding in the bustling streets of NYC isn't enough for a Broadway actress, an uninvited 'guest' in her apartment might be just the thing to put her over the edge.
---
Home Room | Director – Tony Fair
Drama – Shae, an eighth-grader, prepares for her high school admissions presentation while navigating a night on the street.
---
Honeymoon | Director – Amy Aniobi
Drama – Honeymoon tells the story of a newlywed couple on their first night together, made all the more awkward, romantic, and honest because they only just met.
---
#TransitProblems | Director – Casby Bias
Animation – Witness typical bus and subway/train issues within the city.
---
Purchase Tickets