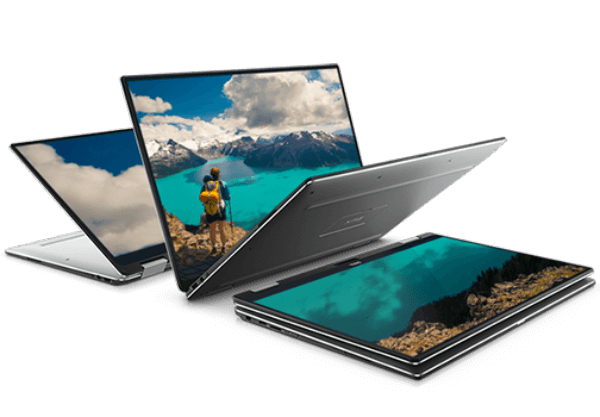 Pros and Cons
Overall Great Buy!
The Dell XPS 13 2-in-1 is a mobile powerhouse and our favorite ultraportable overall. It is absolutely a great buy.
PROS
Thin Design
Finger Print ID Sensor
Controllable Thermals
Upgraded Webcam
CONS
Shorter Battery Life than Spec
Finger Print ID scan takes multiple tries
Review
The 2019 Dell XPS 13 2-in-1 is one of the best options that you can get overall in a 13-inch Ultrabook 2-in-1.  Dell has placed the camera up at the top of the screen which was on the bottom of our XPS 13. This is Unlike the previous bottom-placed camera angle that looked up your nose, caused lots of user complaints and was dubbed the "Nose Cam".
The second change Dell has done on the XPS 13x 2-in-1 is an aesthetic change. The Dell XPS 13 2-in-1  now comes in an Artic white on white finish with a more textured material slip-resistant material and woven glass fiber palm rest.
Weighing in at 2.9 pounds, the XPS 13x 2-in-1 is thinner tapering between 17 and 11 millimeters, has a unibody aluminum case and can rotate into several orientations.
The performance on the 2019 Dell XPS 13 2-in-1 is also better than last year's model due to the Intel® Core™ i7-8500Y Processor with 16GB of RAM which is great for multicore applications. This thing flys!
This unit with its FHD+. display at 13.4 inches, it's slightly larger than the typical 13.3-inch panel and has Intel® HD Graphics 620
The XPS 13 2-in-1 Specs claimed up to 16 hours from the battery however we saw a few hours less than this averaging between 10 and 12 due to the Core i7 and the graphics and FHD+ display.
The XPS 13 2-in-1 has 2 Thunderbolt™ 3 ports and 1 USB-C 3.1 port. USB-A is available via the provided dongle. There is also 1 MicroSD card reader and 1 Headset jack.
The backlit keyboard and trackpad remain unchanged from the previous model which we rate as very solid though not the best. The page up and page down buttons are located right above the left and right keys making them really easy to accidentally press.
The Dell XPS 13 2-in-1 has a built-in fingerprint sensor on the power button so you can log in with via fingerprint.
The speakers are professionally tuned with Waves MaxxAudio® Pro; 1W x 2 = 2W. They are located on the sides and sound pretty good for an ultrabook but do not expect to be blown away by them.
The Dell XPS 13 2-in-1 PC is absolutely a great buy.
Specs
[table id=16 /]
Videos
[content-egg module=Youtube template=custom/slider]
Where to Buy
Products checked every day for the best prices
[content-egg-block template=custom/all_offers_logo post_id="18769″]

Price History
[content-egg-block template=custom/all_pricehistory_full]
Price Alert
[content-egg-block template=custom/all_pricealert_full]
Price Stats
[content-egg-block template=price_statistics post_id="18769″]
Accessories
[content-egg-block template=custom/all_offers_grid post_id="18834″]