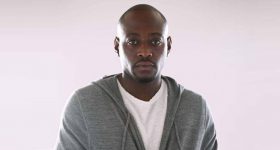 The Social Impact Showcase, a Section Dedicated To Socially Conscious Films, Launches at the 2019 American Black Film Festival
EVENT HOSTED BY ACTOR AND AUTHOR OMAR EPPS
(Black PR Wire) Los Angeles, CA  – The 23rd annual American Black Film Festival (ABFF), taking place in Miami June 12-16, launches the first Social Impact Showcase, a curated program dedicated to raising awareness of films based on cause-related themes, relevant to communities of color. This year's theme Fatherhood: The Foundation of the Black Family will feature a collection of short films, followed by an engaging conversation with the directors, and the event host— actor and author Omar Epps.
The goal of this program is to change the narrative of Black fathers by highlighting their presence, importance and contribution to their families, and by extension, the Black community. Therefore, positively affecting society's view of them. The event will take place during the Festival at the Loews Miami Beach on Saturday, June 15.
Epps knows the personal impact of being a present father within his family and openly recalls growing up without his biological father, then becoming one himself. He shares his story of pain and triumph in his new book, From Fatherless to Fatherhood that recognizes the many themes surrounding the importance of family and community.
"I'm thrilled to be working with Jeff Friday and the ABFF on this year's newly minted fatherhood initiative. Fatherhood within our urban communities has been a painful issue en masse, but there are also several positive stories that don't get highlighted. I'm looking forward to celebrating men who've succeeded in fatherhood and will share my own story as written in my first book, From Fatherless To Fatherhood," says Omar Epps.
Below is the criteria for the Social Impact Showcase. Deadline for submissions is March 11th. Please visit: http://www.abff.com/submissions/social-impact-showcase/ for more details.
Criteria:
Films must have a 30-minute maximum runtime
Section is open to US & international entries
Entrants must be 18 years of age or older
Writer, director, or producer must be a person of African descent, or the film content must have a multicultural perspective
Films must be in the English language or contain English-language subtitles
Films must have completed principal photography on or after January 1, 2018
Films that have been, or will be, broadcast or streamed on television or the internet, or released via any other public distribution platform (theatrical, Blu-ray, DVD, VOD, etc.) in any country prior to June 17, 2019, are not eligible for this category
ABFF remains committed to introducing emerging content creators of African descent to the industry at large and is recognized as one of the leading film festivals in the world. Passes are on sale at www.abff.com, and offer five (5) different levels of access to Festival events. Questions regarding registration may be directed to [email protected].
Sponsors of the 2019 American Black Film Festival are HBO® (Founding and Presenting Sponsor); Greater Miami Convention & Visitors Bureau, Comcast NBCUniversal (Presenting Sponsor); Capital One, Turner (Premier Sponsor); American Airlines (Official Sponsor); and truTV, Warner Bros. (Supporting Partner).
ABFF Social Media Platforms:
ABOUT ABFF:
The American Black Film Festival (ABFF) is an annual event dedicated to empowering black artists and showcasing quality film and television content by and about people of African descent. Committed to the belief that diverse artists deserve the same opportunities as their mainstream counterparts, ABFF founder Jeff Friday conceived the festival in 1997 as a vehicle to strengthen the black filmmaking community by encouraging resource sharing, education and artistic collaboration. He ultimately envisioned it as a cornerstone of diversity in Hollywood. ABFF is the pre-eminent pipeline for black artists in front of and behind the camera, and has significantly expanded the range of talent working in entertainment. For more than two decades the festival has been a platform for emerging black artists — premiering the early work and showcasing the talent of many of today's most successful actors, producers, writers, directors and stand-up comedians. As "the nation's largest gathering of black film and television enthusiasts" the festival attracts a broad audience of A-list talent, emerging artists, upscale consumers and industry stakeholders. Approximately 7,000 to 10,000 people travel to Miami Beach each year for the event. The five-day festival opens with the premiere of an upcoming Hollywood release followed by independent film screenings, master classes, panels, celebrity talks, live entertainment, and a variety of networking and hospitality events.