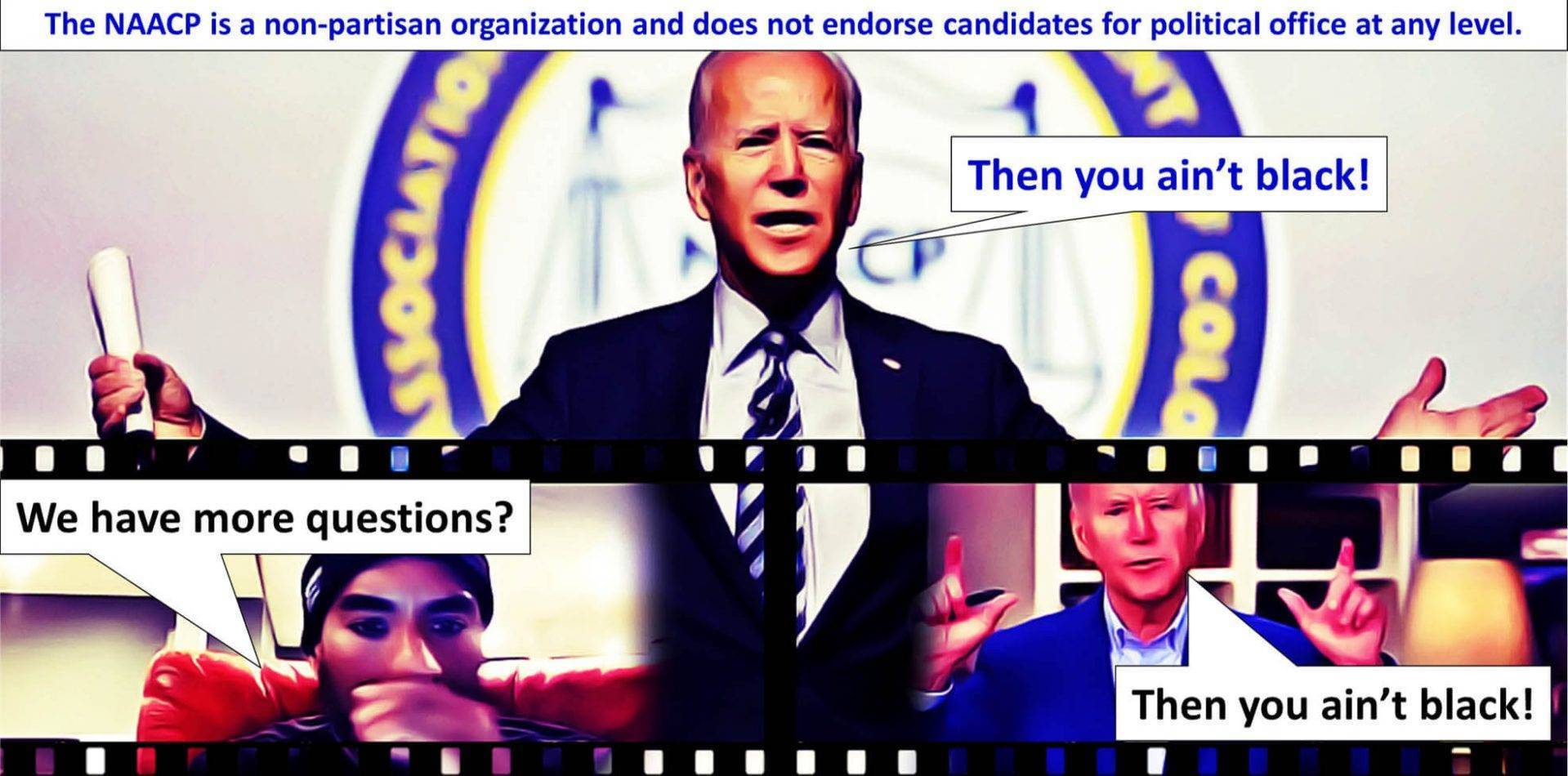 The statement from the NAACP comes amid the controversy caused by Joe Biden's remarks made during an interview with Charlemagne tha God, where Joe Biden  claimed that  those having a hard time "figuring out" whether to support him or President Trump "ain't black."
"I tell you if you have a problem figuring out whether you're for me or Trump, then you ain't black."

Former Vice President Joe Biden
NAACP Statement on Endorsement Comment by Former Vice President Joe Biden
"Yesterday, former Vice President Joe Biden made a comment about the NAACP's endorsement.

We want to clarify that the NAACP is a non-partisan organization and does not endorse candidates for political office at any level.

Persons affiliated with the NAACP at the national, state, and local levels are free to make candidate endorsements in a personal capacity, but they do not reflect support by the NAACP as an organization.

The NAACP has one mission and that is fighting for and advancing our Black communities towards an equitable reality.

Our primary focus at this moment is to ensure that our communities that have been victims of domestic terrorism and disproportionately impacted by this pandemic have the opportunity to cast their powerful vote come November."

Derrick Johnson, president, and CEO of the NAACP
Derrick Johnson's statement was in response to Biden's false claim during an interview with Charlemange that the NAACP had endorsed him on numerous occasions.
"Take a look at my record. I extended the Voting Rights Act for 25 years. I have a record that is second to none. The NAACP's endorsed me every time I've run," he said. "Take a look at the record."

Former Vice President Joe Biden
---
Derrick Johnson, President, and CEO of the NAACP
A longstanding member and leader of the NAACP, Derrick Johnson is guiding the Association through a period of re-envisioning and reinvigoration.
Born in Detroit, Mr. Johnson attended Tougaloo College in Jackson, MS. He then continued onto Houston, TX to receive his JD from the South Texas College of Law. In later years, Mr. Johnson furthered his training through fellowships with the Congressional Black Caucus Foundation, the George Washington University School of Political Management, and the Massachusetts Institute of Technology (MIT). He has served as an annual guest lecturer at Harvard Law School, lending his expertise to Professor Lani Guinier's course on social movements, and as an adjunct professor at Tougaloo College.
Mr. Johnson is a veteran activist who has dedicated his career to defending the rights and improving the lives of Mississippians. As State President of the NAACP Mississippi State Conference, he led critical campaigns for voting rights and equitable education. He successfully managed two bond referendum campaigns in Jackson, MS that brought $150 million in school building improvements and $65 million towards the construction of a new convention center, respectively. As a regional organizer at the Jackson-based non-profit, Southern Echo, Inc., Mr. Johnson provided legal, technical, and training support for communities across the South.
In recognition for his service to the state of Mississippi, the Chief Justice of the Mississippi Supreme Court-appointed Mr. Johnson to the Mississippi Access to Justice Commission, and the Governor of Mississippi appointed him Chair of the Governor's Commission for Recovery, Rebuilding, and Renewal after the devastation of Hurricane Katrina.
In the wake of Hurricane Katrina, Mr. Johnson founded One Voice Inc. to improve the quality of life for African Americans through civic engagement training and initiatives. One Voice has spawned an annual Black Leadership Summit and the Mississippi Black Leadership Institute, a nine-month training program for community leaders.
---
The Breakfast Club
The Breakfast Club is a four and a half-hour morning show featuring DJ Envy, Angela Yee, and Charlamagne Tha God's unrivaled interviews with celebrities and hip-hop artists. From megastars like Justin Bieber, Nicki Minaj, and Arnold Schwarzenegger to rap icons such as Rick Ross, Waka Flocka, and Gucci Mane, every guest visiting The Breakfast Club is grilled with their signature blend of honesty and humor. The results are the best interviews to be found on radio.
The Breakfast Club includes segments such as Angela Yee's Rumor Report. Angela shares the latest pop-culture news, while Envy and Charlamagne share their unique opinions on each topic; Donkey of the Day – Charlamagne chooses a public figure or celebrity to poke fun at after public missteps; and DJ Envy's People's Choice Mix – 25 minutes straight of DJ Envy's award-winning music mixes.