Maria Raquel Thomas Named Featured Slimer at Largest DC Slime Expo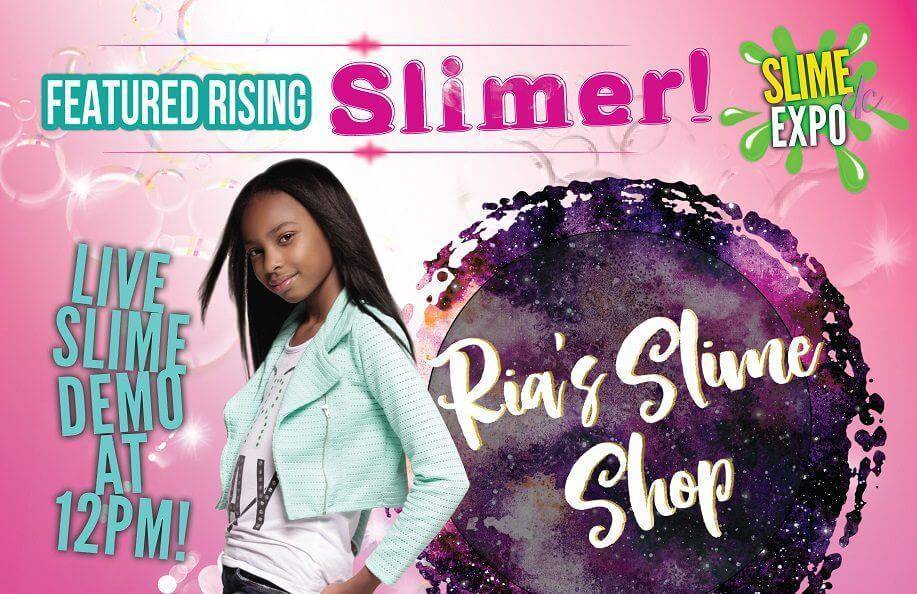 WASHINGTON – Jan. 17, 2019 – Thousands of kids from all over the nation will descend upon the DMV Saturday, March 23rd to play with and buy slimes from top-selling slime shops from across the country.  Ria's Slime Shop, based in DC, will have a vendor's booth and the owner, Maria, will be giving a demonstration to kids to show them how to make slime.
"We are excited to have Ria's Slime Shop on our list of vendors and demonstrators for our upcoming event. We like to team up with dedicated brands and she has clearly done just that," states Claudia Gamez, the owner of the Slime Expo DC.
"Slime" is a craze that has hit the Z-generation and does not look to slow down.  Slime is a homemade substance, that comes in a multitude of colors and textures — fluffy, glittery, grainy — that emit crackling noises when poked and squeezed. For Maria, she sees it as a stress-reliver for her generation.  And the results of this new "stress reliever" is making Maria a nice business profit. Since going into business in January 2018, she has sold hundreds of units (prices range from $8 to $16) and counting. Kids line up to grab her latest creations at events. She also has a website and she sells on Etsy and Amazon.
Maria's popularity in the slime world has grown rather quickly. She already has thousands of followers on Instagram and her YouTube videos have garnered over 50,000 views. She has followers from across the globe and she has even given them a nick-name: Ria's Royals.
Maria has been awarded for her leadership in the community. She was awarded the "Girl of Merit" 2018 award and she was selected as a Junior National Young Leader 2018. Recently, she was a candidate for the prestigious Forbes "30 Under 30" 2019 list.
Maria plans to be a doctor, scientist and an inventor when she grows up. On any given day, the A-student can be seen building robots, roller-coasters and of course, making slime.
"My goal is to invent products that make people's lives easier, safer and healthier. My slime creations calm kids down and I even have parents playing with the slime to ease their tension," states Maria.
For more information, visit the official website at www.slimeexpodc.com.