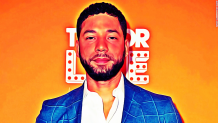 Jussie Smollett Surrenders To Chicago Police, Charged With Staging January Attack
"Empire" actor Jussie Smollett turned himself into Chicago police early Thursday morning. He is charged with disorderly conduct wit allegedly against himself last month in Streeterville. Smollett turned himself in at the Central District police station at 18th and State streets around 5 a.m., police said. He made no statement to police.
Smollett has been transferred from lockup to the Leighton Criminal Courthouse. Smollett was scheduled to appear for a bond hearing Thursday afternoon on a felony charge of disorderly conduct.
Smollett faces Disorderly which is a Class 4 Felony.
Smollett's attorneys have released the following statement:
"Like any other citizen, Mr. Smollett enjoys the presumption of innocence, particularly when there has been an investigation like this one where information, both true and false, has been repeatedly leaked. Given these circumstances, we intend to conduct a thorough investigation and to mount an aggressive defense."

Sources have said the two brothers told police they helped stage the attack with Smollett. They said they were paid $3,500 to orchestrate the attack. They left for Nigeria hours after the attack and were arrested days later when they returned to Chicago.
On Wednesday, they testified to a grand jury. Smollett was later charged with disorderly conduct.