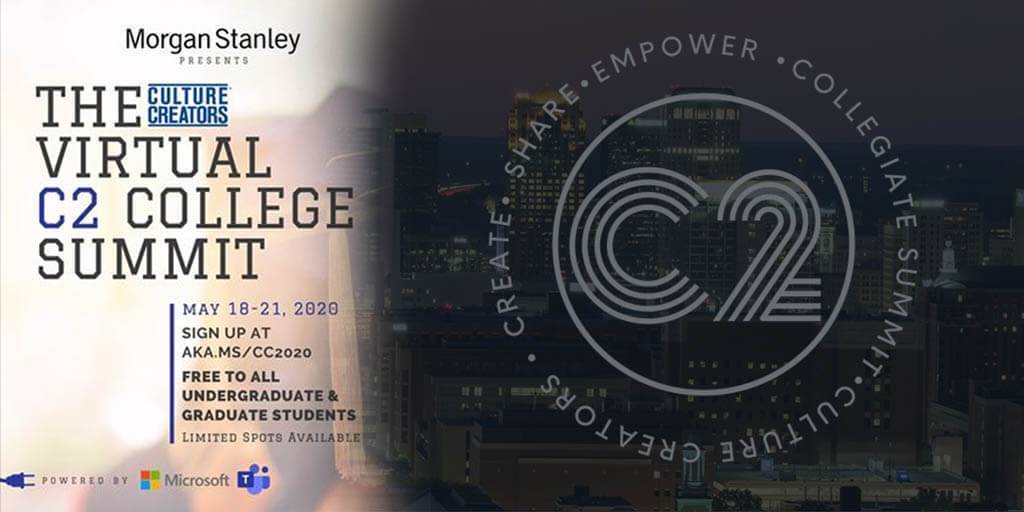 Culture Creators To Continue 'C2 Summit' HBCU Initiative As A Virtual Conference May 18 -21 For College Students Seeking Career Opportunities In Business & Entertainment
The C2 Summit is in Partnership with Morgan Stanley, Powered by Microsoft
Culture Creators, an exclusive platform established to cultivate and highlight the achievements of diverse professionals in entertainment, has announced that its second installment of the C2 Summit Series will take place online as a virtual conference Monday, May 18 through Thursday, May 21, 2020.
Confirmed speakers include leaders from William Morris Endeavor, Live Nation, Morgan Stanley, MasterCard, Atlantic Records, Motown Records, Will Packer Films, Rap Snacks, and more. Steve Pamon, President/COO of Parkwood Entertainment will host the Summit's first Culture Chat on Monday, May 18 at 8:00 pm. A special discussion on college students and mental health during the pandemic will also take place.
Following the success of last year's inaugural event in Washington, D.C., Morgan Stanley returns as a Summit partner to provide HBCU students with a four-day digital experience that includes panel discussions, one-on-one interviews, speed mentoring, culture chats and a pitch competition. Attendees can take advantage of employment opportunities as well as unparalleled access to job recruiters and seasoned influencers with various backgrounds in business, entertainment, technology, finance, and lifestyle.
New sponsor Microsoft & Microsoft Stores will deliver the C2 Summit virtual experience via Microsoft Teams — the hub for collaboration. Breakout sessions and activities will take place through Microsoft Teams and Channels, and keynotes will be hosted on Microsoft Teams Live Events. In addition to accessing professional development opportunities, Summit guests will receive guidance on using Microsoft Teams for their future careers.
---
The C2 Summit is FREE for college students.
Sign up now at Here
---
"The C2 Summit was truly designed with the college student in mind," says Joi Brown, Culture Creators founder. "We wanted to create a holistic experience that addressed every need a student may have when embarking upon their career journey. Undoubtedly, there are very few programs that make high-level executives and influencers accessible in such an intimate, one-on-one setting. I'm grateful to Morgan Stanley, Microsoft and Microsoft Stores for sharing in our commitment to sow into these future creators in business and entertainment."
"As an inaugural sponsor, Morgan Stanley is honored to again partner with Culture Creators for the C2 Summit.," says Tiara Chesmer, Regional Diversity Officer, Morgan Stanley Wealth Management. "The C2 Summit aligns seamlessly with our own core values: 'Doing the Right Thing,' 'Leading with Exceptional Ideas,' and 'Giving Back.' It's vital that we pave the way for African American youth to have a voice in Wealth Management. As such, we are elated to seize the opportunity to empower these students to oversee their own personal finances and to encourage them to pass the torch within their own communities. As a multicultural woman, it's not only my duty as a Diversity Officer but a personal passion as well to create more seats at the table. The C2 Summit allows for myself and my colleagues to interact with and encourage African American future executives to take the reins of their financial future and pave the way for generations to come."
---
The deadline to register for the C2 Summit is May 12.
Attendees will receive technical instructions for event keynote speakers and breakout sessions upon registration.
---
Visit http://theculturecreators.co/createnow/ for more information.