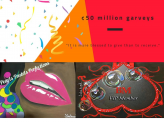 Attention! Triple Hitter Sweepstakes! By: Shaheed
BY: Shaheed
Attention all members! Inspired by the love shown to him from the Koinda community, Shaheed presents to you the Triple Hitter Sweepstakes!
That's 50cjs, a piece of fine handcrafted artwork from cjsgo.com and a wonderful opportunity for you to get great discounts at Black Momma Tea & Cafe
Yes, that's triple love coming somebody way.
Winner will have to cover $15 shipping cost.

To Enter:
1. Send 5gv from you Cleophus Wallet to @gray1980
2. Screenshot your transaction and paste in the comment section with a number from 1-100 here.
(A number randomizer will be used to select the winner.)
The winner will be announced live after deadline on January 25, 2019, 12 noon.
This is a very beautiful piece. One that captures a broad range of colors topped off with eye-catching gems.
To get your Cleophus wallet visit:
To get some a couple of free coins visit Koinda and find some friends.