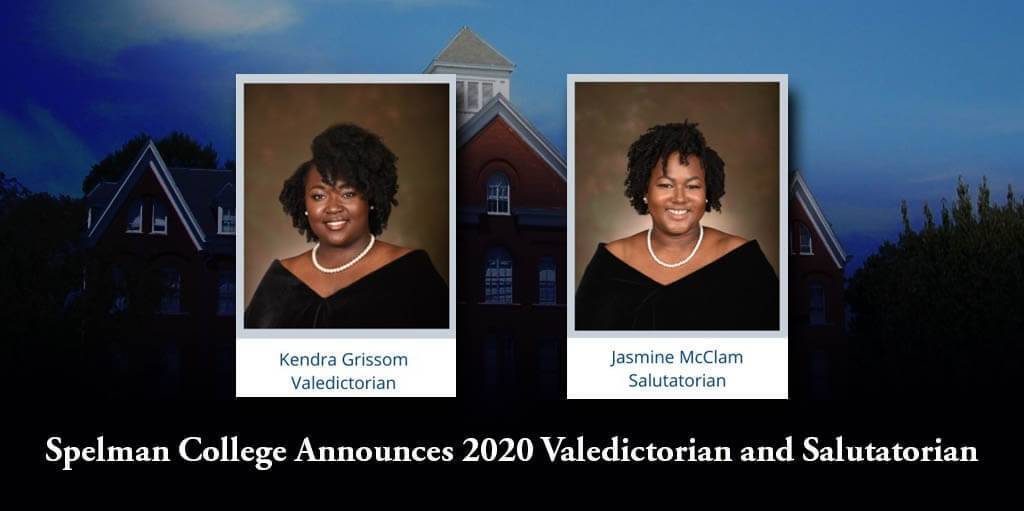 Through hard work, determination, and balance, Kendra Grissom and Jasmine McClam have excelled and achieved high honors during their academic careers. Now, Grissom, a native of Baltimore, Maryland, and McClam, a native of Missouri City, Texas, can add valedictorian and salutatorian to their long list of academic achievements.
Being named valedictorian is especially significant for Grissom.
A product of west Baltimore, the history major said people discounted her and made assumptions about her abilities because of her origin. Being named valedictorian confirms for her that how one begins does not determine how one ends.
"I am incredibly proud of my Baltimore roots and I hope this moment serves as evidence that inner-city youth should not be underestimated,"  "As a first-generation college student, I am incredibly blessed to have a village of amazing mentors, teachers, family members, friends, neighbors, professors and church members who have supported me throughout my life's journey. I would not be where I am today without them, and this honor is as much theirs as it is mine."

Kendra Grissom
Michelle Hite

, Ph.D., associate professor of English and director of the Honors Program, is one of those mentors.

Even though Grissom was never one of her students, Dr. Hite's mentorship helped shape her intellectual life at Spelman.
"Kendra sought me out after hearing me speak and wanted to learn more about my intellectual journey and how to build a life rooted in ideas." "Through Kendra's example, students can observe the intellectual sovereignty that serious academic work demands. Though no instructor gave Kendra an assignment to seek me out or to create rich and meaningful intellectual experiences for herself, she did it anyway. Grad school is built for just such a renegade. I'm proud of her and look forward to having her as a professional peer one day soon."

Dr. Hite
The recipient of the Clio Outstanding History Graduating Senior Award, Grissom is a member of the Phi Alpha Theta and Phi Beta Kappa Honor Societies and a UNCF Mellon Mays Undergraduate Fellow. She served as a mentor in the Ford First Gen Scholars Program, was an ambassador of the Spelman College Museum of Fine Art, and worked with the Spelman College Glee Club.
Following graduation, Grissom will continue her studies at 

Johns Hopkins University

, where she plans to pursue a Ph.D. in history.
Her overall goal is to become a professor at a historically Black college or university, making history more accessible while actively working to impact change in public education.
Following in the footsteps of her mother and aunts, McClam is a fourth-generation HBCU graduate.
Choosing to attend Spelman was the best decision of her life, she said because she learned the power of persevering after failure.
"I always had the goal of maintaining high scholastic excellence throughout my Spelman career. Every semester, I made a pact with myself to maintain a good balance between my academics, extracurricular activities and time with my friends," "Many opportunities I received, I got on my second or third try. Spelman taught me how to pick myself up after I fall. This honor means the world to me and to my family."

Jasmine McClam
McClam credits professors like Jeanne T. Meadows, Ph.D., associate professor of international studies and director of the International Affairs Center, with helping her throughout her Spelman career.
Dr. Meadows expects that through her work, McClam will bring to life
Spelman's

 mantra, "A Choice to Change the World."
"Jasmine's native intelligence, her strong academic skills, and her calm and decisive demeanor are clearly impressive," "She understands the approaches needed to address the social, economic, and political issues in national and international settings. She is very aware of the exigencies of life that divide people and has demonstrated an ability to work to overcome them."

Dr. Meadows
Having worked closely with McClam over the course of the past two years, DeKimberlen J. Neely, Ph.D., an associate dean in the Office of Undergraduate Studies, said McClam is destined for greatness.
"Over the past two years, Jasmine has consistently demonstrated that she is open to constructive feedback and willing to be pushed beyond her limits with good energy,"  "Jasmine is a thought leader who leads with humility and keen insight. It has been an honor to work with her."

Dr. Neely
McClam, an international studies major, has traveled abroad to various countries across Latin America. In 2019, she was named a finalist for the  Harry S. Truman Scholarship and was inducted into Spelman's chapter of Phi Beta Kappa.
She was a 2020 Charles B. Rangel International Affairs Fellowship finalist, a Mickey Leland Endowed Scholar, and the recipient of the Thomas R. Pickering Foreign Affairs Fellowship.
As part of the fellowship, McClam will attend the School of International and Public Affairs at Columbia University where she will pursue a graduate degree in international affairs. Her overall goal is to become an assistant secretary of the Bureau of Educational and Cultural Affairs within the U.S. Department of State.
More information about graduate tributes can be found via Spelman Senior Salute.