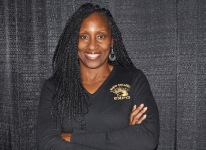 NCRF Proudly Announces the 20th Annual Black College Expo Giving Millions in Scholarships On Site
LOS ANGELES — Dr. Theresa Price founded the National College Resources Foundation (NCRF) a 501c3 non-profit organization in 1999 in direct response to the passing of California's Proposition 209 that banned affirmation action programs in California colleges. Since its inception, the organization has helped students secure more than $500 million in scholarships & grants and has helped over 500,000 students (over 300,000 first-generation students) get into college, through 130 College Expos produced by NCRF.
With a heart to help and having no idea of the magnitude of what she was about to embark upon, Dr. Price launched the Black College Expo™ , a portal providing college resources for as many as would come. Now, 20 years later NCRF is a fully staffed educational enhancement agency based in Diamond Bar, California providing educational services to underserved and underrepresented students, schools and groups around the country.
In addition her staff provides production support, marketing and outreach for the Black College Expo™ , a eleven-city tour with a presence in Los Angeles, San Diego, Sacramento, Oakland, Seattle, Atlanta, DC/Maryland, Houston, Miami, Dallas, New York, along with several other California based education driven events including the Latino College Expo™ , All Sports Expo, and Students Think S.T.E.A.M. Expo.
The College Expo is for all students, all backgrounds. Students get to meet one-on-one with over 200 colleges, Ivy League, private, public, independent, military colleges and community colleges.
Students receive on the spot scholarships, acceptance to colleges, application fees are waived, plus students can get help from experts filling out their financial aid forms. Students attend seminars on "Booming Careers", "The 411 for the Student-Athlete", "How to Find Money for College", and even Hip Hop artist YoYo teaches students "How to get A's in English."
Dr. Price's passion and concern for the future of our youth transcends color, religion, socioeconomic status, and gender. Dr. Price's outreach stretches beyond the educational system by also hosting exclusive events for athletes, HBCU Football Combine and HBCU Basketball Showcase to help student-athletes connect with athletic scholarships to pay for college.
"With over 55 million jobs available in 2020 and the educational system not producing enough workers to fill these jobs, we all have to come together to create more future leaders. NCRF is on a mission to change the world and we create programs to give every student an opportunity to be successful," says Dr. Price.
For 2019, Dr. Price has increased the expo to new markets while continuing to be consistent in annual markets.  Exhibitors/vendors are being accepted.  Please call 877-427-4100 or email [email protected].
16th Annual
BLACK COLLEGE EXPO
OAKLAND
February 9, 2019
14th Annual
BLACK COLLEGE EXPO
ATLANTA
March 9, 2019
15th Annual
BLACK COLLEGE EXPO
DC/MARYLAND
March 16, 2019
1st Annual
BLACK COLLEGE EXPO
DALLAS
March 30, 2019