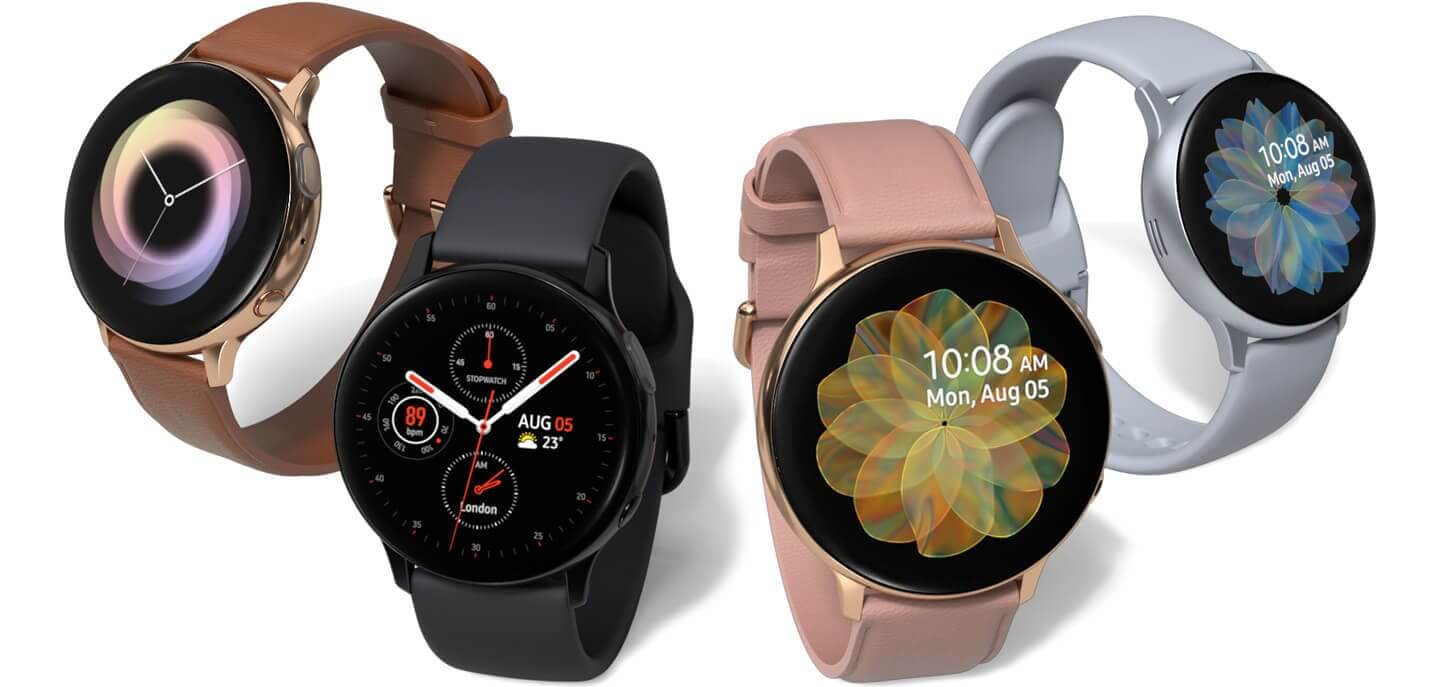 Pros and Cons
Worthy of a spot on your wrist!
Overall we are extremely impressed with the Samsung Galaxy Active 2 and recommend it for anyone looking to pick up a SmartWatch
PROS
Light Weight
Digital Rotating Bezel
Excellent Battery Life
CONS
Takes 2hrs to fully charge
Review
Samsung Galaxy Watch Active 2 is a follow up to the first Galaxy Active watch active and is an excellent refresh on the Galaxy Watch Active released earlier this year.
The Samsung Galaxy Watch Active 2 comes in two sizes, 40 millimeter and a 44 millimeter and It's available in Bluetooth and LTE versions.
The LTE model comes in' black, silver, gold and in both stainless steel and aluminum finishes, Samsung's and of course a bunch of different strap options.
Samsung has brought back the rotating bezel but in digital form. It's not an actual physical rotating bezel; like on previous Galaxy models but a touch-sensitive finger-controlled bezel you can use to scroll through screens, apps and text notifications which makes It easier to control than the previous Galaxy Active.
The Galaxy Watch Active 2 is very lightweight and compact and the band on this particular one well-made and minimalistic
It still has a very bright 1.4 inch AMOLED display screen which made it very easy to read both indoors and outdoors. Even viewing the watch in direct sunlight wasn't an issue at all with the watch set to maximum brightness.
The Samsung Galaxy Watch Active 2 comes packed with lots of features. The battery life is really impressive. With the display set to always-on and general usage, the watch ran for one day. With the always-on turned off, the watch ran for two and a half days of battery life. When it comes to charging times, we were able to charge the watch back up to 100% after in 2hrs.
When it comes to activity tracking the galaxy watch lives up to the name Active. With activity tracking there are many ways to jump into a workout whether go into the exercise widget or simply tapping work out right from your home screen if you have this watch face set up which side note again there are a ton of different watch faces to choose from and customized straight from here you can select your workout of choice and get right into it basic stats such as your time distance traveled and heart rate will be monitored and shown to you during your exercise now regarding the heart rate monitoring I am happy with the accuracy that the active watch 2 provides when testing it side by side with the galaxy note 9s heart rate sensor
The watch has onboard storage which lets you save music right to the watch and pair up your earbuds to the watch which allows you to leave the smartphone at home while going for a run or jog.
Spotify is installed on the watch right out of the box and you can begin downloading music for offline listening right away you can also perform all of your normal music controls such as play pause skip and reverse tracks and change your volume off from the watch.
The watch has an IP68 and 5ATM water and dust rating so if you are a swimmer or get caught in the rain if you want to swim it will be able to handle a range of conditions.
GPS is also featured on this watch and will track your workout which you can see on an onscreen map which proved to be very accurate in our test.
This watch is excellent for day-to-day usage starting with messages text messages show up nicely and very clearly on the watch it is very easy to read through messages and reply using either voice or handwriting the message one letter at a time. Phone calls are also very manageable on the watch with its built-in speakers
I am loving the complete package of this watch from hardware to software and overall extremely impressed with the Samsung Galaxy Active 2 and recommend it for anyone looking to pick up a SmartWatch.
Specs
[table id=14 /]
Videos
[content-egg module=Youtube template=custom/slider]
Where to Buy
Products checked every day for the best prices
[content-egg-block template=custom/all_offers_logo post_id="18605″]

Price History
[content-egg-block template=custom/all_pricehistory_full]
Price Alert
[content-egg-block template=custom/all_pricealert_full]
Price Stats
[content-egg-block template=price_statistics post_id="18605″]
Accessories
[content-egg-block template=custom/all_offers_grid post_id="18743″]