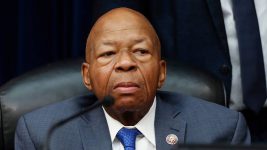 Maryland Congressman Elijah Cummings, Dead at 68
Maryland Congressman Elijah Cummings, Dead at 68
Democratic congressman Rep. Elijah Cummings, from Maryland, died early Thursday morning.
Cummings age 68 died at 2:45 a.m in Baltimore at Johns Hopkins Hospital from complications connected to longstanding health challenges, the lawmaker's office said in a statement.
Rep. Elijah Cummings has not participated in a roll call vote since Sept. 11. His office noted that Rep. Cummings had undergone a medical procedure but made no comment as to the seriousness of his condition.
"I was very disappointed to miss today's important hearing," Cummings said in a statement to The Baltimore Sun as the Oversight and Reform Committee hearing continued on a bill that would make the District of Columbia, the nation's 51st state.
"Unfortunately, I've had to have a medical procedure, and my doctors expect me to be back in the office in a week or so. However, nobody should mistake my absence as a lack of commitment to D.C. statehood or passage of H.R. 51," the statement said.
According to Maryland State law Gov. Larry Hogan must issue a proclamation for a special primary election and a general election to fill the vacancy. Hogan's spokesman, Mike Ricci, said Thursday morning that it isn't clear yet when the special election will happen.
A diversity of Reactions from heartfelt, to hopefull for the future of Baltimore began to flood twitter as the news spread:
We –
the nation,
the City of Baltimore,
the State of Maryland,
and the United States Congress – have all suffered a tremendous loss. pic.twitter.com/W7WYqerhIK

— The Black Caucus (@TheBlackCaucus) October 17, 2019
This "man" was an example of why black people have no "elders," just useless old people. He used the civil rights movement as a springboard to a life of comfort and wealth for himself and then helped white supremacy to oppress his own people.
Rot slowly!https://t.co/C3JBRIcerV

— ProfessorBlackTruth (@ProfBlacktruth) October 17, 2019
We are struck this morning to hear the news about the passing of Congressman Elijah Cummings. His death is a tragedy not just for the city of Baltimore, but for our entire nation, and for all of those who fight for justice.https://t.co/2syNdZD3if

— Julián Castro (@JulianCastro) October 17, 2019
White society LOVED Elijah Cummings because he did NOTHING for Black people. He proudly IGNORED us and promoted THEIR agendas. He was a HARMLESS, old DEFEATED inside traitor to his people.
We now need to elect a DANGEROUS negro who SCARES the dominant society. https://t.co/QcQZOwXANZ

— Black Authority (@TheBlackChannel) October 17, 2019