Blockparty (BOXX) Digital Collectibles Market Launch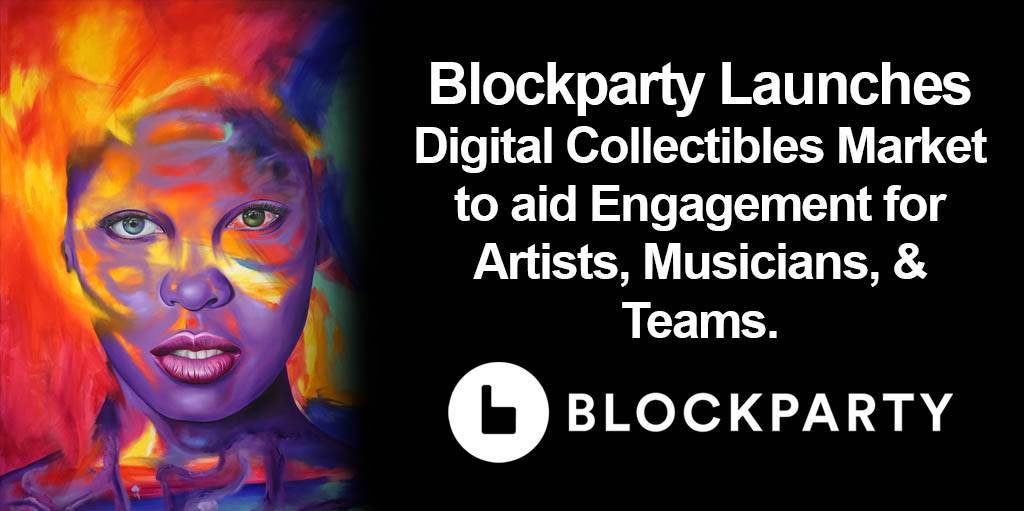 Blockparty Launches Digital Collectibles Market to aid Engagement for Artists, Musicians, & Teams
Blockparty (BOXX) which enables fans to fully own, sell, and trade digital assets launched its curated digital collectibles marketplace. Blockparty now features rare and valuable works from recognized legacy artists never before seen in the digital art world.
The first collection available features art Highly-coveted art from Ryan Keeley, Harif Guzman (Haculla), and Mark Paul Deren (MADSTEEZ) available for sale for the next 48 hours, until August 22 at 11:59 p.m. EDT. After that time, fans will be waitlisted and notified when the next art drop is live on Blockparty
Ryan Keeley, Harif Guzman, and Mark Paul Deren
Ryan Keeley: Instagram, Harif Guzman: Instagram ,MADSTEEZ: Instagram
[content-egg module=Youtube template=custom/slider]
The Blockparty marketplace provides fans with the opportunity to access rare, authentic collectibles such as art, music, and sports.
With more than half (57%) of 18 to 24-year-olds preferring to buy collectibles online, Blockparty is tapping into the $4.8B online art and collectibles marketplace with unique offerings.
The Blockparty digital asset marketplace is now live! Registration is only open for 48 hours.

We have highly sought after art from well recognized legacy artists available now.

Their first ever #NFTs!

Register & browse our first ever drop. https://t.co/nqfC29Ahiy pic.twitter.com/jBvphLA7UC

— Blockparty 🤩 (@Blockparty) August 20, 2020
"On one hand, our new marketplace allows art, music, and sports enthusiasts to exchange and validate the authenticity of rare digital collectibles they want from some of their biggest idols, On the other, we're solving an age-old problem that entertainment brands have faced for decades – creating lifetime value with their fans. With our unique digital assets marketplace, we're not only creating greater access to collectibles on a global scale but also heightening the fan experience; we're ultimately helping everyone, from artists to fans, monetize it in a completely new way."
Vladislav Ginzburg, CEO of Blockparty.
With a focus on art at launch, Blockparty (BOXX) will bridge gaps between the fine art world and the rapidly-growing digital collectibles space. In our new reality where fans miss the in-person experience of their favorite artists, digital collectibles are more important than ever in helping artists and brands incentivize long-term relationships with their collectors and fans by offering unique benefits, rewards, and giveaways.
By showcasing their work in Blockparty's digital collectibles marketplace, artists and brands can access new initial and recurring revenue streams and open themselves to new markets of avid collectors. They can also expand their creative mediums and branded assets into digital and mixed reality and create more integrated collector and fan experiences that deepen loyalty.
"This is a monumental opportunity for me to offer my collectors a new and unique way to obtain valuable work in our current climate."
"Digital art has proven to be a worthy collectible, and its track record among collectors is rapidly growing. With most galleries, art fairs, and even private viewing rooms shut down until the unforeseeable future, this is the platform that artists need to engage with to keep their livelihoods afloat and adapt to a digital future. With Blockparty, I'm able to offer my collectors access to my digital art backed with the most innovative and protective technology and can continue engaging with the public to provide them with truly unique collectibles that are worthy of ownership and will continue to increase in value exponentially into the future."
Ryan Keeley, a contemporary artist and digital art creator on Blockparty.
When it comes to collectibles, a common issue is validating its rarity and authenticity, especially as the value of trade in counterfeit and pirated goods could reach $991 Billion by 2022 according to the Economic Impacts of Counterfeiting and Piracy Report.
To help combat this, the Blockparty marketplace uses non-fungible tokens issued on Blockchain allowing the digital creator or content owner to add a permanent, tamper-proof watermark to the digital file ensuring its legitimacy.
This allows fans to easily verify the authenticity of the digital asset and its value whether it's fine art, a musical festival pass, or sports paraphernalia.