'Real-Life Wakanda' KE Int'l Awarded $6 Billion Contract for Akon City Senegal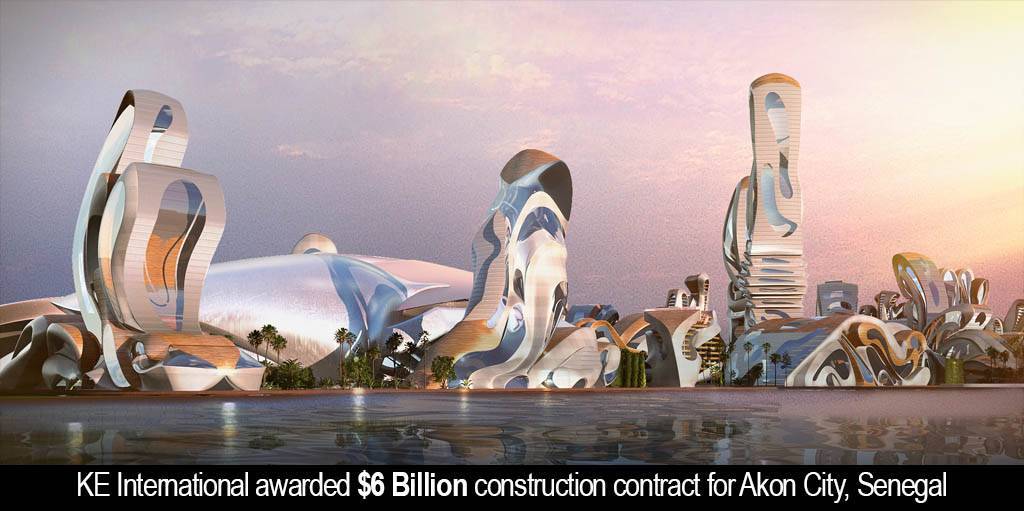 Akon City has awarded the contract for building and executing a futuristic-cryptocurrency themed city to KE International, a US-based Consulting and Engineering firm, and will have Dubai based Bakri & Associates Development Consultants lead the architectural designs under KE International guidance.
'Real-Life Wakanda' Futuristic City in Senegal On Track For 2021 Construction
KE International is known for the design and execution of Mwale Medical and Technology City (MMTC). A green City which is currently the home of 35,000 residents based in Western Kenya, founded by entrepreneur and Investor, Julius Mwale in 2014 with an expected completion date of December 2020.
Paradise in the Village: Mwale Medical and Technology City
Mwale Medical and Technology City (MMTC), features a new supermarket, new and upgraded residences, a Mall, a Golf course, and solar streetlights, all powered by 100% renewable off-grid energy.
Phase 1
Akon City's Phase 1 is expected to complete by end of 2023 and will include road, Hospital, Mall, residences, hotels, police station,  school, waste facility, and solar power plant construction.
Phase 2
Phase 2 will run from 2024 to 2029 and will end with a complete cryptocurrency City running exclusively on AKOIN cryptocurrency.
The initial US $4 billion investment secured by KE International for Akon City, is led by leaders in healthcare and technology and co-development partner SAPCO (Senegal's state tourism agency).
President Macky Sall of Senegal has earmarked Akon City as a special tax zone with tax breaks to be given to the City to encourage investment.
Akon City is located on 2000 acres on the ocean, less than an hour drive South of the new International airport in Dakar.
---
About Mwale Medical and Technology City (MMTC)
Mwale Medical and Technology City (MMTC) is a sustainable metropolis centered around a state-of-the-art medical and technology complex located within Butere Sub-county, Kakamega County, of the Republic of Kenya. Construction began in 2014 and will complete in December of 2020. It is comprised of five districts being built in three phases. Phases 1 & 2 are 100% complete and construction of Phase 3 is currently underway with 40% percent complete.
MMTC is built with 100% sustainable sources of energy including hundreds of solar-powered street lights already brightening up freshly paved roads, as well as the upcoming 144-megawatt waste-to-energy facility to produce clean electricity for the city from the hospital and municipal waste.
MMTC also contains a 36-hole golf resort with 4,800 private residences along the golf course. Other amenities include the upcoming 35-acre Disney-style water park, the world's largest convention center, and a private international airport connected by a cable car along a serene aerial route to the Hospital.
MMTC is currently hiring and has Jobs in varying fields.
So are you moving to Akon City or MMTC? Sounds like the perfect place for Pan-Africans. Vacation Home Perhaps?
Let us know what you think in the comments.