LIFETIME'S JANUARY 2020 FILM SLATE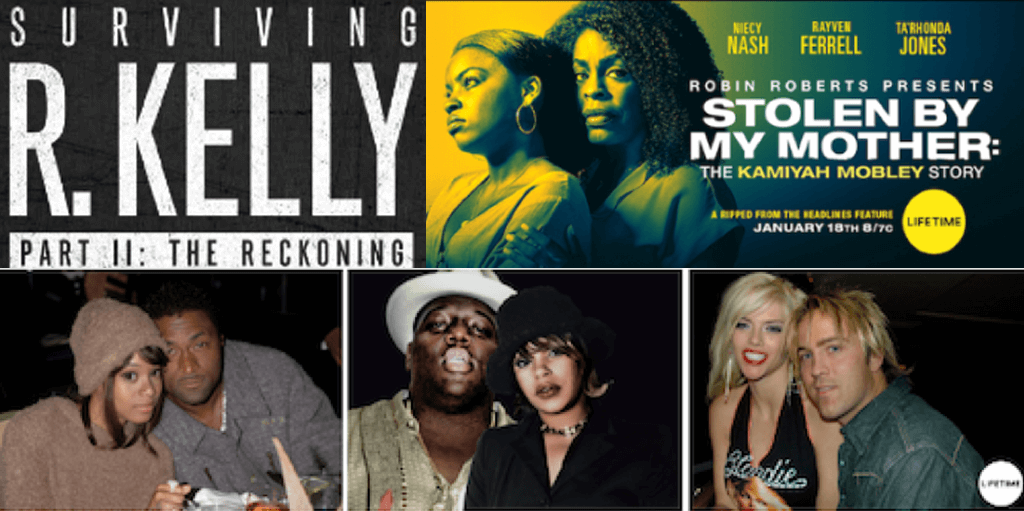 "Surviving R. Kelly Part II: The Reckoning" "Hopelessly In Love" Documentary Film Series (Lisa "Left Eye" Lopes & Andre Rison, Faith Evans & Notorious B.I.G., Anna Nicole Smith & Larry Birkhead) and "Robin Roberts Presents: Stolen By My Mother: The Kamiyah Mobley Story"
Strategic Heights Media is working with Lifetime to provide media relations support on their upcoming January 2020 film slate.
The collaboration with the network will focus on the following upcoming titles, previously announced by Lifetime: "Robin Roberts Presents: Stolen By My Mother: The Kamiyah Mobley Story," the new "Hopelessly In Love" documentary series (Lisa "Left Eye" Lopes & Andre Rison, Faith Evans & Notorious B.I.G., Anna Nicole Smith & Larry Birkhead), and the highly-anticipated "Surviving R. Kelly Part II: The Reckoning" three-part docuseries.
---
Surviving R. Kelly Part II: The Reckoning Three-Night Event Beginning Thursday, January 2 at 9pm ET/PT
Surviving R. Kelly Part II: The Reckoning will feature interviews from a variety of perspectives including new survivors, supporters, psychologists and cultural and legal experts, and more insights into the ever-growing saga of the R&B singer, who is currently facing federal and state charges.
The three-night docuseries uncover new stories with revealing details and explores why the voices of the girls that spoke up decades ago are only now being heard.   In the days following the debut of Surviving R. Kelly on Lifetime this past January, vital conversations erupted throughout the world.
Calls to sexual assault hotlines increased by 35%, and #MuteRKelly activists were further galvanized to protest for R. Kelly's record label to drop him. Public outcry ensured the survivors would not be ignored and more women came forward with allegations of abuse. Seven weeks after the debut of the docuseries, the Cook County attorney's office indicted the R&B singer on 10 felony counts of aggravated sexual assault involving four alleged victims and spanning over a decade, ultimately leading to Kelly's arrest. Then in July 2019, R. Kelly was arrested on charges including child pornography and kidnapping, facing a total of 18 federal charges.
Produced by Kreativ Inc, Surviving R. Kelly Part II: The Reckoning is executive produced by Joel Karsberg and Jesse Daniels of Kreativ Inc.; Dream Hampton; Tamra Simmons; Maria Pepin; and Brie Miranda Bryant who executive produces for Lifetime. Sudi Khosropur is a co-executive producer. Surviving R. Kelly falls under Lifetime's commitment to providing a platform to give women a voice where they have previously been unheard to bring awareness to the alleged abuses and harassment of women.
The full story will be available beginning on Thursday, January 2 at 3pm, with a six-hour marathon of Part I, airing in its entirety, leading into the two-hour premiere of Surviving R. Kelly Part II: The Reckoning from 9pm – 11pm ET/PT.  Night two continues with two new hours of content, on January 3, from 9pm – 11pm ET/PT, and will conclude on Saturday, January 4 at 8pm ET/PT – 9:30pm ET/PT.
Hopelessly in Love: An inside look at the intense and complex relationships.
Hopelessly in Love: Lisa "Left Eye" Lopes and Andre Rison Premieres Saturday, January 4 at 9:30pm ET/PT
An inside look at the intense and complex relationship between TLC pop star Lisa "Left Eye" Lopes and NFL wide receiver Andre Rison. The film delves into their passionate yet reckless romance that went from abuse allegations to a mansion up in flames. Never-before-seen footage, including the moments leading up to Left Eye's death, reveals the depth of their love and the underlying turmoil that tore them apart.
Hopelessly in Love: Faith Evans and Notorious B.I.G. Premieres Friday, January 10 at 9pm ET/PT
Following the intense marriage between Faith Evans and the Notorious B.I.G., two of the biggest stars in R&B and hip hop, this is the story about young love and the pressures and consequences of fame for the couple and the culture at large. Twenty years after the iconic rapper's murder, Faith Evans is ready to confront her pain and revisit the most intimate moments of their relationship…from their whirlwind engagement, to the East coast/West coast rivalry that led to Tupac and Big's deaths, and the roles others in the scene, like Lil' Kim, may have played in their tumultuous love story.
---
Robin Roberts Presents: Stolen by My Mother: The Kamiyah Mobley Story Premieres January 18 at 8pm ET/PT
In the summer of 1998, Gloria Williams (Niecy Nash), reeling from a recent miscarriage, drove from her home in South Carolina and walked into a Jacksonville, Florida hospital posing as a nurse and took newborn Kamiyah Mobley (Rayven Ferrell) out of her mother Shanara Mobley's (Ta'Rhonda Jones) arms. By the time police were alerted, Gloria was long gone.
Renaming the baby Alexis, Gloria raised her as her own, providing her with unconditional love and nurturing. It wasn't until years later, when Alexis applied for her first job and couldn't provide a social security card or a birth certificate, that she realized something was wrong. As questions mounted, Gloria was forced to tell Alexis the truth, that she was really Kamiyah Mobley and abducted as a baby.
Despite discovering the mother she knew was really her kidnapper, Alexis kept the secret as long as she could, until an anonymous tip soon led to Gloria's arrest and their world came tumbling down.
From Rock'n Robin and Lincoln Square Productions, Robin Roberts Presents: Stolen by My Mother: The Kamiyah Mobley Story is executive produced by Roberts, Linda Berman, Michele Samit, Richard Kletter and Gary Randall. Jeffrey Byrd directs from a script written by Samit and Kletter.
Hopelessly in Love: Anna Nicole Smith and Larry Birkhead Premieres Friday, January 17 at 9pm ET/PT
Featuring never-before-seen footage, photos and candid interviews, this special documentary is a revealing account of the relationship between one of the most infamous women in the world, the late actress and Playboy playmate Anna Nicole Smith, and Larry Birkhead, the celebrity photographer who saw her beyond her ill-fated past.
Larry Birkhead gives a firsthand recollection of their romantic and often unstable union which ignited a highly-publicized battle over daughter Dannielynn, following Anna's heartbreaking and untimely death.    Hopelessly in Love is produced by Entertainment One (eOne) and Creature Films. Executive producers are Tara Long for eOne, Mark Ford and Kevin Lopez for Creature Films, and Kai Bowe. Larry Birkhead, Faith Evans, Andre Rison and Reigndrop Lopes also serve as executive producers. Brie Miranda Bryant and Gena McCarthy are executive producers for Lifetime.