Dr. Conrad Worrill Ph.D Reparations Chronology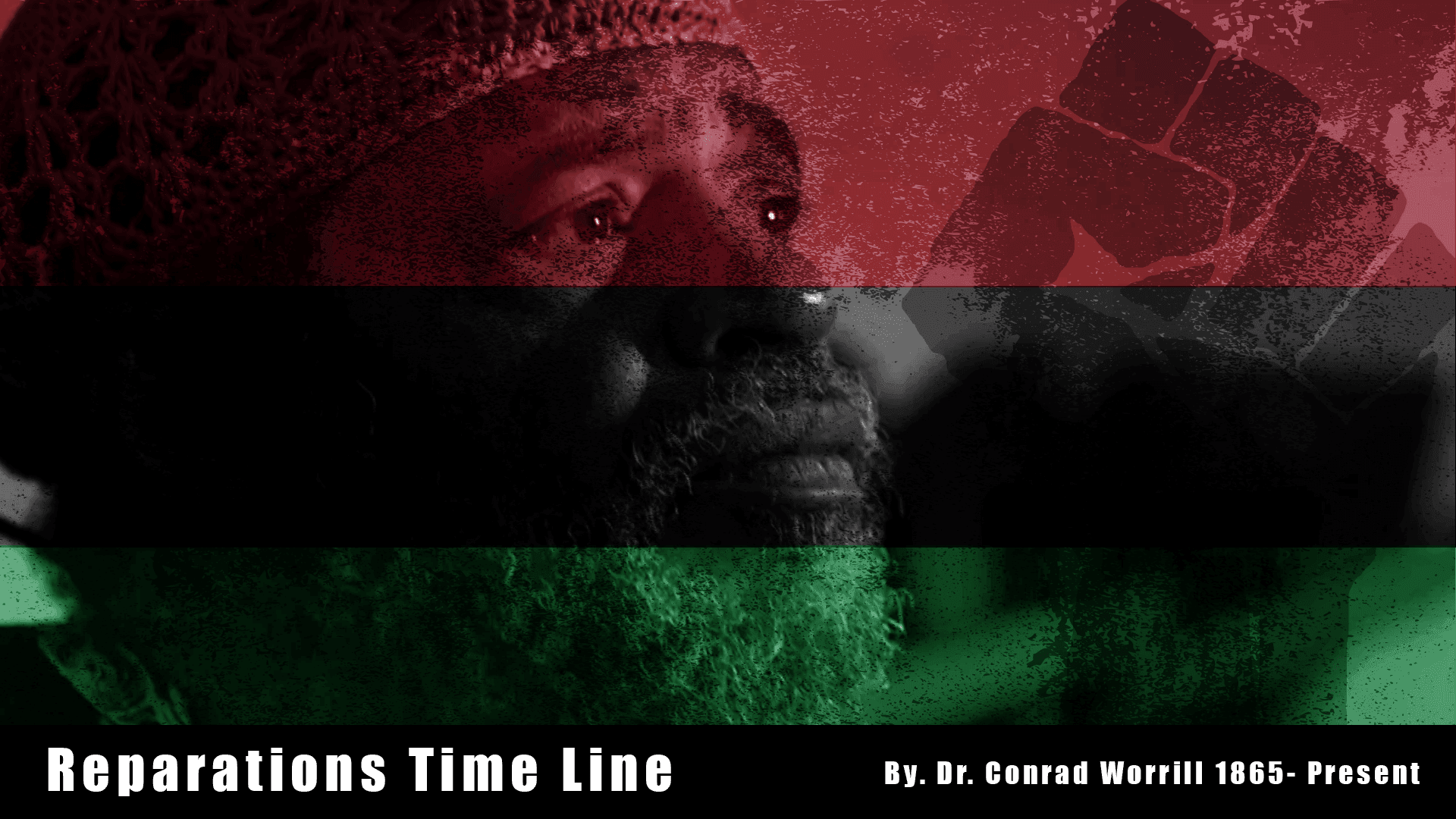 Protracted and Cumulative
Meaning if there wasn't a guy like 'Reparation' Ray Jenkins, there would be not HR.40 to talk about.
Dr. Worril (R.I.P.) took the time to tweet all of this to me and others during one of our numerous exchanges in a long series of tweets over the course of 2 days.
Since he took the time to tweet it, I took the time to record it.  Enjoy.
Who was Dr. Worrill?
Conrad Worrill (August 15, 1941 – June 3, 2020) was an African-American writer, educator, activist, and talk show host for the WVON call-in program On Target. Organizations he was involved with included the Million Man March and the National Black United Front.
In 2015 Dr. Conrad Worril and Ray Winbush put together the book entitled "Chronology of the Reparations movement of Africans in America. Which he tweeted to me during one of our many "passionate" Twitter exchanges. 
Reparations Chronology
Date
Event
Info / Links
wdt_ID
Date
Event
Info / Links
1
1865
The sellout of Field Order #15; Callie House, National Ex Slave Mutual Relief Bounty and Pension Association
No Pensions for Ex-Slaves
2
1890-1916
UNIA and the Garvey Movement.
UNIA Timeline
3
1948
Genocide Convention Treaty United Nations.
Crime of Genocide
4
1950
Nation of Islam, Elijah Muhammad begins to voice their demands for Reparations.
What The Muslims Want
5
1950
Robert Brock started Reparations Movement in Calif., spent 40 years working on the issue. REPARATIONS AS DEFINED BY ATTORNEY DR. ROBERT L. BROCK
Robert Brock Case For Reparations
6
1951
Paul Robeson, William Patterson, W.E.B. DuBois launch Genocide Campaign.
We Charge Genocide
7
1955
Reemergence of grassroots organizing around the demand for Reparations.
8
1962
Queen Mother Moore & Dara Abubakari form Reparations Committee they delivered communique to The United Nations.
Interview Congressional Record
9
1963
Organized petition of one million signature for support of the demand for Reparations.
Can't Find Petition
10
1968
The founding of Republic of New Afrika (R.N.A) with Imari Obadele.
Video
11
1969
James Forman disrupting Riverside Church in New York and presenting Black Manifesto Reparations demands.
Black Power Manifesto
12
1972
National Black Political Convention, Reparations resolution passed by ten thousand people and presented to all Presidential candidates.
13
1972
African Liberation Day, 60,000 people and issue of Reparations raised; throughout.
Video
14
1980
African Peoples Socialist Party sponsored nationwide Reparations hearings.
15
1980
Reparations Ray (Ray Jenkings) emerges in Detroit as a leading Reparations activist.
In 1988, Detroit Advisory Board member, Reparations Ray Jenkins, encouraged Congressman John Conyers to introduce a Reparations Bill.
16
1988
Massachusetts State Senator Bill Owens filed a Reparations Resolution with State Legislature in Mass
17
1989
Congressman John Conyers introduces H.R.40 - Commission to Study Reparation Proposals for African Americans Act
Bill
18
1993
The First Pan African Conference on Reparations held in Abuja, Nigeria, April 27-29 & attended by African American
Conference
19
1994
Lost and Found Nation of Islam / Silas Muhammad Petition for hearings at UN on Reparations
Statement
20
1995
Reparations Settlement in Rosewood, Florida; 1995, CATO Decision, California courts ruled against reparations lawsuit
Find Legal Docs
21
1996-1997
National Black United Front (NBUF) Human Rights Genocide Campaign. The National Black United Front Human Rights and Genocide Campaign is a Petition/Declaration of the Office in Charge of the High Commission of Human Rights of the United Nations in Geneva, Switzerland.
NBUF Genocide Campaign
22
1998
Campaign: Holocaust, Genocide - Reparations; Africa Group Resolution that the Transatlantic Slave Trade was a Crime Against Humanity
23
1999
Tulsa Race Riot Commission established
NBUF Genocide Campaign
Find better source
24
2000
Legal Strategies/ Atty. Deadria Farmer-Paellman launches campaign to expose corporate complicity in slavery; secures apology from Aetna, Inc.
25
2000
The Dec 12th Movement role in following Malcolm X's idea of exposing the plight of African people before world bodies. They have played a leading role in organizing around the Transatlantic Slave Trade was a Crime Against Humanity as an NGO for fifteen years at the UN.
26
2000
Local municipalities adopt resolutions in support of HR40 most publicized Chicago Alderman Dorothy Hearing; Atty. Adjoa Aiyetoro, N'COBRA Lawsuit; Republic New Africa (R.N.A) Reparations Lawsuit; Reparations/Assessment Discussion of Lawsuit: Cochran, Pires, Ogletree, Gary, etc.
27
2000
Mass discussions of Reparations and a variety of strategies unfold: Lawsuits, Trust Funds/education, Land set aside, International law, Release of political prisoners and other prisoners, Economic development funds; 2001 Pan African Unity on the Question of Reparations.
28
2001
The DURBAN 400 and the African and African American Descendants Caucus and Pan African Unity in the Question of the Transatlantic Slave Trade, Slavery, Colonialism and Apartheid being Crimes Against Humanity and that Reparations are owed to African people worldwide.
DURBAN 400 Movie Trailer
29
2001
Publication of Randall Robinson's The Debt, which presents a powerful argument for Reparations for the Trans-Atlantic Slave Trade,
30
2001
911 setback but Reparations Movement continues to push forward
31
2002
Atty. Deadria Farmer-Paellmann Sue's more than 20 US corporations for their predecessor companies profiteering From the Trans-Atlantic Slave Trade.
32
2002
Millions for Reparations Rally Called by the Durban 400 on Aug 17th in Washington, DC. Attended by 50,000 people, viewed by millions on C-SPAN.
Millions for Reparations March
33
2002
Queen Mother Moore Reparations Bill introduced by Councilman Charles Barron(NY) recognizing the Transatlantic Slave Trade as a Crime Against Humanity.
Oct. 2nd, Chicago Slave Era Disclosure Act-Corporations must disclose their ties to slavery prior to conducting business News Link.
Resolution Bill
34
2002-2003
Reparations Lawsuits the addition of corporate entities to target groups for Reparations lawsuits:
Reparations Corporate lawsuits filed March 26, 2002 in Brooklyn, NY.
Tulsa Riot Reparations Lawsuit filed February 24, 2003 in Tulsa, Ok.
Find Legal docs
35
2003
2003, Dr. Raymond Winbush's (A.k.A Dr. WinBag) book on the Reparations Question, Should America Pay?
36
2003
Creation of Ndaba Movement by Dr. Conrad W. Worrill, former Nat'l Chair of National Black United Front (NBUF). Over a period of one year, five cities in the U.S.-Chicago, Jackson, Ms., Houston, Baltimore, & Atlanta hosted mass meetings with Minister Farrakhan and Worrill educating thousands about Reparations.
Unveiling Street Sign
37
2003
2003, February 26th First Hearing of the Consolidated Class Action Corporate Lawsuit in Chicago Federal Court. Lead Attys were Lionel Jean-Baptiste and Roger Wareham. Over a two-year period, Millions For Reparations organized mass rallies on the streets and filled the courtroom.
38
2003-2004
2003-2004, Other City Council Oil Resolutions (following the Chicago Model) require corporations to disclose their ties to slavery, January 8th Reparations Lawsuit filed by Bob Brown in Chicago, March 20th Phase IV of NBUF Genocide Reparations Petition Campaign, worldwide;
39
2004
2004, March 20th Nationwide NBUF Elected Officials Reparations Survey Scorecard Campaign; May 12th, 2004 Second Reparations Lawsuit filed by Bob Brown, Chicago;
40
2005
Millions More Movement organized by Minister Farrakhan endorses Reparations for the Transatlantic Slave Trade, 2006, Wilmington Race Riot Report published in N.C calling for Reparations for the 1898 Wilmington Massacre.
41
2005-2007
State of Illinois Transatlantic Slave Trade Commission established and two reports published.
42
2007
2007 all Reparations Lawsuits were dismissed on the U.S. legal concept of Statute of Limitations. Under International Law this concept does not apply. That's why International Reparations organizing is important.
43
2008
Institute of the Black World Sponsored State of the Black World Conf, September 8th 2008 in New Orleans, major Reparations workshop held with Reparations scholars, organizers and activists from throughout the U.S.
44
2008-2016
Reparations Movement conflicted on strategy related to President Barack Obama's tenure in office. N'COBRA, NBUF and others continued to push HR40. N'COBRA sponsored through their National Plans of Actions, in Feb., each year around the country Reparations Awareness Days
45
2014
Wealth gap disparities; 2014 Atlantic Magazine publishes Ta-Nehisi Coates A Case For Reparations; discussions continue around his article exposing real estate rip off of Black people on Chicago's Westside in the 50's and early 60s.
Article
46
2014
Institute of the Black World (IBW) and the Carruthers Center for Inner City Studies (CCICS) led by Dr. Ron Daniels sponsored CARICOM Representatives at a major forum on Reparations at Chicago State University, April 19, 2014. Prominent leaders spoke prior to Hillary Beckles.
47
2015
Minister Farrakhan, Dr. Rev. Jeremiah Wright, Dr. Iva Carruthers, Kamm Howard and Worrill preceded Beckles presentation on CARICOM's Ten Point Reparations Program. Beckles is the author of the profound book Britain's Black Debt. More than 3,000 in attendance.
link
48
2015
National African American Reparations Commission (NAARC) established at York College in N.Y. Over a three-year period, NAARC and N'COBRA collaborated in upgrading HR40 beyond just a Study Bill. Dr. Ron Daniels


10-Point Reparations Plan
51
1967
Amiri Baraka (LeRoi Jones) was a part of the planning of the Black Power Conference chaired by Dr. Nathan Wright, scheduled to take place in Newark in the summer of 1967 before the Rebellion hit. The Black Power Conference Committee was composed of nationally recognized black leaders of all stripes, and Nathan Wright was selected to coordinate this 3-day event at an Episcopal Church property in downtown Newark.
link
52
2006
Freedman Lawsuit Leatrice Tanner et al v Ryan Zinke, et al. This class action lawsuit was originally filed in 2006 by the Harvest Institute Freedmen Federation (HIFF), of which The Harvest Institute is a party. This case was heard by the Federal Court of Appeals at 9:30 a.m., Friday, November 17, 2017.
link
53
2000
Dr. Claude Anderson on Reparations for Slavery. Dr. Claude Anderson at Capitol Hill speaking for "Reparations for Slavery".
Video