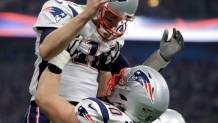 Patriots, Rams combine for 16 points in lowest-scoring Super Bowl
ATLANTA — So much for a shootout in Super Bowl LIII.
The New England Patriots beat the Los Angeles Rams 13-3 on Sunday night, and the 16 combined points set a record for the lowest-scoring game in Super Bowl history.
The previous mark of 21 combined points, set by the undefeated Miami Dolphins and Washington Redskins at Super Bowl VII, had stood for 46 years. The Patriots' winning total was also one fewer point than the previous low, set by the Dolphins in their 14-7 win in 1973.
The Rams tied the Dolphins' record-low total from their 24-3 loss in Super Bowl VI, and they also joined that Miami team as the only ones not to score a touchdown in a Super Bowl.
The over/under for this year's Super Bowl closed at 56, the third-highest in the game's history, but that mark was doubtful after the Patriots entered halftime with a mere 3-0 lead.
The three points combined for the second-lowest-scoring half in a Super Bowl, just shy of the record set in Super Bowl IX in 1975, when the Pittsburgh Steelers and Minnesota Vikings combined for two points.
During the regular season, the Chiefs (18.6 points per half) and the Rams (17.4 points per half) were the two highest-scoring first-half offenses in the league. But early on, Patriots quarterback Tom Brady was uncharacteristically shaky, going 15-of-25 for 160 yards in the first half while throwing an interception on his first pass attempt. Rams quarterback Jared Goff also struggled, completing 5 of 12 passes for 52 yards before the half.
The Rams became the 13th team to be shut out in the first half of the Super Bowl. None went on to win. The Patriots are the third team to shut out their opponent in the first half of both the conference championship and Super Bowl, along with the 1973 Dolphins and 2000 Baltimore Ravens. All three teams won the Super Bowl.
This was only the second playoff game since 2001 that had three or fewer combined first-half points. The Vikings and Seattle Seahawks combined for three in the 2015 wild-card round.